Reality TV is part of the problem, and can be part of the solution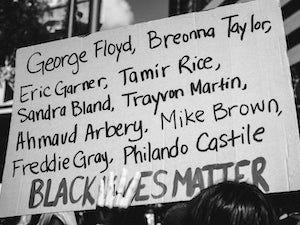 Dear newsletter subscribers,
The reality TV we love—and that I've spent 21 years writing about—contributes directly to dehumanizing people.
That's one of the things I've become even more acutely aware of this week, watching protests that came from yet another horrifying image of police killing an unarmed black person.
And that's been followed by so, so many examples of police violence against peaceful protesters, journalists, and others.
Just watch this. And if you're more upset about property damage than the continued destruction of human lives, watch as cops destroy water bottles that peaceful protesters had gathered, or watch as cops destroy a medic station staffed by doctors and nurses.
The problem is not "one bad apple"; it's a bad system that has rotted the tree. And part of that system is reality television and pop culture, from the stereotypes it perpetuates to the people whose stories shows choose to tell.
I wrote about that: From Cops to Big Brother to Live PD, reality TV is a big part of the problem.
The story includes a mention of a podcast I highly recommend, especially if you like to know what happens behind the scenes on reality TV shows, as I certainly do. It's called Running from Cops, and a lot of its revelations surprised me.
I'm encouraged, though, by the protests, and by actions: from a community ending its police's participation in Live PD to Abby Lee Miller's apology for her racist comments, which said, in part, "that racism can come not just from hate, but also from ignorance. No matter the cause, it is harmful, and it is my fault."
That's a start.
Another good start is for white people to use their platforms and power to talk to other white people, especially.
One of my longtime favorite Travel Channel hosts, Samantha Brown, just called out food, home, and travel reality TV for its "void of diversity."
A few resources I've found very helpful:
And for a few examples of how misinformation about race that I know have crept into my consciousness, a few segments from a show I've written about before, Adam Ruins Everything:
Weeks of protests aren't going to end systemic racism in our country and world. What will are individual actions, especially from those of us white people who've for too long sat on the sidelines and thought, I'm not a racist and that's good enough. We need to listen, learn, and act.
I love to share in the silliness and fun and thrills of reality TV—and I will keep doing that, as we're watching summer reality shows and re-watching Survivor Borneo, season one.
But I will also do what I can, when I can, to help dismantle institutionalized racism. I will continue to push TV networks and producers and cast members to do better, and to hold them accountable when they fail, just as I hope you hold me accountable when I screw up.
You can find the unsubscribe link below if you're uncomfortable, but I'm okay with making people uncomfortable and losing followers: it's literally the least I can do.
best,
Andy
---
🌄 This is Reality in Focus issue 197, first sent 5 June 2020, and it stands alongside the people fighting to end systemic racism. Black lives matter.

💻 This newsletter is hand-crafted in Florida by me, Andy Dehnart, and is supported by reality blurred patrons and paid subscribers to this newsletter. Please consider becoming a patron or upgrading your newsletter subscription!
💌 If you like this newsletter, forward it to a friend! If you're that friend, you can subscribe here!
✅ Bookmark realityblurred.com and visit daily for the latest of my reality TV news analysis, reviews, and commentary.

📷 Photo of a protest sign—which shows the names of black people killed by police and others—by frankie cordoba.