Is Big Brother cancelled? Why were Survivor winners warned? Plus: Two delightful cooking shows
Tiger King follow-ups, and reviews of Quibi shows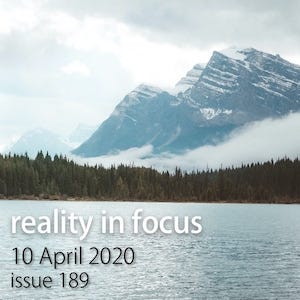 Dear newsletter friends,
Every week, I create a small graphic for the start of this newsletter. I try to find a photo that either captures my mood or momentarily transports me to another place, and then change the date and issue number. (And I hope it provides a little moment of zen for you, too.)
Just now, before sending this, I realized that I'd written "March 10" on today's graphic. So I edited it. But then I looked and, oh! Last week's newsletter, the one about Tiger King, said "March 3," even though it was April 3.
So that's how my week/month is going. How are you?
Summer reality TV + Tiger King
Summer reality TV wouldn't start for a while—mid-May at the earliest, June and July for other shows—but it's clear there will be some big changes because of production shut-downs
Has Big Brother 22 been cancelled? Or Love Island? I tried to get to the bottom of two unusual stories about CBS's summer reality shows.
While we're on CBS: Survivor's winners were warned to stop talking about Survivor. I understand trying to protect spoilers, but that's not what this is—it's a far more disturbing attempt at control.
In recaps: This week's episode of Survivor: Winners at War—Survivor's 'most chaotic day ever'—also had one of Survivor's funniest moments ever, which made me laugh out loud.
I also recapped Making the Cut's team challenge and surprise one-day challenge, and interviewed three designers about it.
In 🐯Tiger King news:
Netflix will premiere a follow-up episode hosted by Joel McHale this Sunday. I am trying to not be skeptical about this, though I do appreciate its title: "Tiger King and I"

A writer who "spent over a year pursuing the story of Joe Exotic and big cat ownership in the U.S." says that Tiger King "is NOT an accurate portrayal of that story."
Quibi, Schitt's Creek, Millionaire: what a week
Among this week's debuts was a return of 1999's hit Who Wants to be a Millionaire and the premiere of a brand-new streaming service you can only watch on mobile devices.
I ranked and reviewed 8 Quibi reality shows, including the wonderful Chrissy's Court and Dishmantled. That story also explains just WTF Quibi is, if that's a question you have.
For the L.A. Times, I wrote about one of Quibi's unscripted shows, Shape of Pasta: L.A. chef of Quibi's 'Shape of Pasta' hopes it angers some. That means it's working.
Schitt's Creek had its series finale this week, 😭😭😭, but that was followed by more time with the cast: a behind-the-scenes documentary about its final season.
Cooking with Tom Colicchio—and Julia Child
I have two shows to recommend to you this week, and then two videos for you to watch.
The first is a companion series to Top Chef All Stars LA, which is a season that has kind of underwhelmed me so far.
What has surprised and delighted me is watching Tom Colicchio drink wine and attempt Top Chef's challenges on a new spin-off series. Check it out.
Also check out Dishing with Julia Child. It has TV chefs watching Julia's TV show, and it's a delight. It's on PBS Friday nights at 10.
Okay, two videos. This song—created with audio from Julia Child's shows—never ceases to lift my spirits (and if you love it, too, you can buy the song for $1):
And this SNL sketch from 1978 always, always makes me laugh until I cry (though if you're squeamish, perhaps you should avoid it):
I hope those clips and shows bring some light into your life today. Talk to you next week, in February.
best,
Andy
---
🌄 This is Reality in Focus issue 189, first sent 10 April 2020, and it has been better at knowing what day it is this week.

💻 This newsletter is hand-crafted in Florida by me, Andy Dehnart, and is supported by reality blurred patrons and paid subscribers to this newsletter. Please consider becoming a patron or upgrading your newsletter subscription!
💌 If you like this newsletter, forward it to a friend! If you're that friend, you can subscribe here!
✅ Bookmark realityblurred.com and visit daily for the latest of my reality TV news analysis, reviews, and commentary.

📷 Photo of Banff by Chris Henry